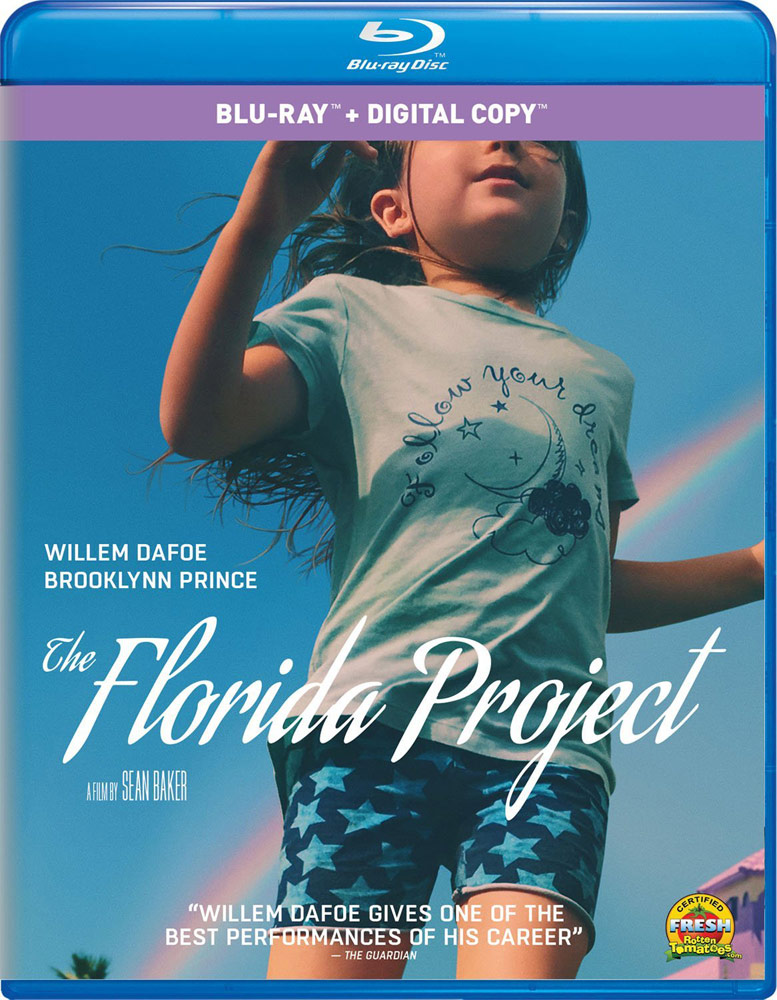 Set just outside of Disney World in a rundown, low-rent motel named The Magic Castle, The Florida Project follows the adventures of a six-year-old girl named Moonee (Brooklynn Prince), who lives a mostly unsupervised existence. Her mother Halley (Bria Vinaite) is more like a friend or a sister than a parent, and although she must be in her twenties, looks and acts as if she's in her late teens. Whatever Moonee does, from launching numerous spitballs on a neighbor's car to blowing the electrical system for the entire motel, Halley finds it amusing. As a mother, her parenting style is to smile and shrug.
However, this film is told mostly from Moonee's view. She has adventures with her friends Jancey (Valeria Cotto) and Scooty. The trio beg for money from strangers so they can get an ice cream cone to share, throw rocks through the windows of abandoned houses, set fires, and basically just get into as much trouble as they can come up with.
It's a childhood not many kids get these days, with the freedom to be young and uninhibited. Willem Dafoe plays Bobby, the manager of The Magic Castle, where Moonee and Halley live, and he has to handle the personalities of the various tenants with patience, while also keeping an eye on the children whose parents aren't doing the job. He sincerely seems to care about all of the people at the motel, most of whom seem to live there permanently, even though that's forbidden by the owner.
Although Halley is a negligent parent, she loves Moonee, and tries to provide positive experiences for her, but as an unemployed, obviously uneducated young woman, she's just not capable of raising a six-year-old with any kind of stability. She tries to make money by selling faux-designer perfume to tourists, but when that falls through, she turns to more illicit means to make money.
It's eye-opening that these people live such impoverished lives just minutes away from Disney World, where wealthier families from all over the world come to have fun. The theme park looms large in the background, as the motel residents watch the Disney fireworks from afar and interact with wealthy tourists.
Most of the cast seem to be made up of first-time actors who improvise quite a bit of the dialogue, making the film almost seem like a documentary at times. That's not a bad thing, as it feels like we're following the lives of real people who just happen to be caught on camera. However, Willem Dafoe's acting is what makes this film truly stand out. He brings charisma and warmth to a character who, in a less experienced actor's hands, may have been forgettable. Not surprisingly, Dafoe's performance earned him his third Oscar nomination.
Included in the Special Features are interviews with the cast and crew. Brooklynn Prince, the now seven-year-old who played Moonee, was surprisingly articulate for someone so young. Also interviewed are first-time actors Bria Vinaite and Valeria Cotto, as well as Dafoe and director Sean Baker. There's a lengthy featurette titled Under the Rainbow: Making The Florida Project, which is a bit rambling, but there are interesting tidbits such as when a rainbow naturally occurred, the filmmakers got on the phone and rushed the young actors over to ad lib a scene that had actually been scheduled to be in the film, saving them money (they were going to CGI in a rainbow). We also find out that halfway through filming, extensive rewrites were done, moving the film in a different direction than originally planned. Included as well are a handful of bloopers and outtakes.
The Florida Project is now available on Blu-ray and DVD. If you've seen the film and would like to rate/review it yourself, click here. ~Alexandra Heilbron