Episode 2 - The Star-Spangled Man
In episode 2 of The Falcon and the Winter Soldier , the U.S. government has chosen John Walker (Wyatt Russell) to carry the shield of Captain America after Sam Wilson (Anthony Mackie) gave up the mantle, even though he was chosen to be the next Captain America by Steve Rogers. John Walker is introduced to the world like a celebrity, doing a segment for Good Morning America.
When Sam and Bucky (Sebastian Stan) finally meet, there's tension between them. Bucky resents Sam for giving up the shield. However, the two put their differences aside and work together as they take on the Flag Smashers, a group of eight supersoldiers led by Karli Morgenthau (Erin Kellyman), in an action-packed scene. Captain America and his sidekick Lemar Hohskins (Clé Bennett), who goes by Battlestar, swoop in to save the day as they join in the fight against the Flag Smashers. However, the Flag Smashers manage to get away.
John tries to convince Sam and Bucky to work together with him, but they decline his offer and go their separate ways. We see a sinister side to John when he gets rejected. The Flag Smashers' intentions are also revealed: they plan to return things to the way they were during the Blip.
Bucky takes Sam to see Isaiah Bradley (Carl Lumbly), a supersoldier during the Korean War. He was a Black Captain America that Sam and Steve didn't even know about. Unlike the original Captain America, Isaiah was not given a hero's welcome upon his return. Instead, the government put him in jail for 30 years and experimented on him. Even Black superheroes are not immune to racism. Soon after this scene, Sam is racially profiled by the police as they ask Bucky if Sam is bothering him. That is, until they realize he's Sam Wilson, a.k.a. Falcon.
Getting to see Bucky and Sam together is a treat. They playfully tease and insult each other and bring much needed humor to the script. When they discuss "The Big Three" types of bad guys in the MCU: Androids, Aliens and Wizards, the subsequent argument about wizards and Gandalf is hilarious.
At the same time, the episode becomes more timely and relevant with the revelation of Isaiah. The show seems to examine the legacy of Captain America in the MCU and I'm glad to see this being explored wisely. It clearly weighs on Sam's conscience as he realizes the kind of world he's living in and the part he plays in it.
Anthony Mackie easily slips into light-hearted humor with Bucky, and at the same time we see the weight he carries when he worries about the world and the new Captain America. Sebastian Stan easily relays guilt as he masks the real reason he wants Sam to be Captain America.
Episode 3 – Power Broker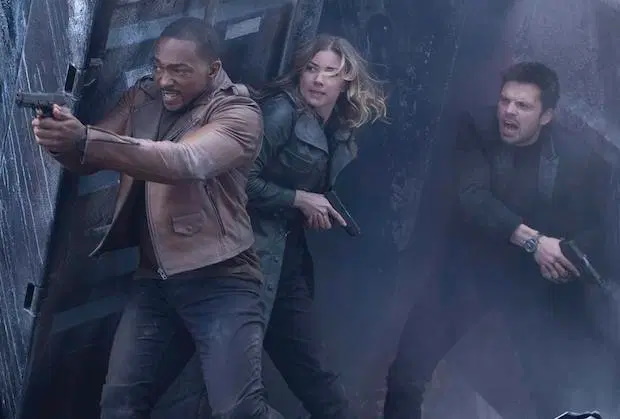 Bucky and Sam arrive at a Munich prison to visit Baron Zemo (Daniel Brühl) for intel on the supersoldiers. Bucky helps Zemo escape from prison, much to the shock of Sam. However, he convinces Sam to trust his plan.
Zemo takes them to the island nation of Madripoor to find crime boss Selby and get intel on Dr. Nagel, who created the supersoldier serum that empowers the Flag Smashers. Before they get more information, Selby is shot dead and they take the fall for it. A bounty is placed on their heads and Sam, Bucky and Zemo are on the run.
Sharon Carter (Emily VanCamp) finally enters the picture! She was last seen in Captain America: Civil War, and because she stole the Captain's shield, she's a wanted woman, forced to live on the run in Madripoor and sell stolen art to support herself.
Sharon is now much more cynical and bitter, but makes a deal with them to get her name cleared and in exchange, she'll help them. She uses her connection to help find Dr. Nagel, who reveals that he was recruited by the CIA to use Isaiah Bradley's blood to create the supersoldier serum. After the Blip, he was recruited by en entity known as the Power Broker to recreate the serum. However, it was stolen by Karli.
While the previous episodes were a nice setup, this "Power Broker" episode was more packed, heavier on the action and revealing much more of the backstory of the Flag Smashers. It was a treat to see Sharon and Zemo, both who made this episode a fun watch. With only three more episodes to go, we're given enough information on the premise and where this might be heading. I hope to see more of Zemo and Sharon in the upcoming episodes and definitely more banter between Sam and Bucky.
The Falcon and the Winter Soldier is streaming on Disney+. New episodes will be released weekly. ~Marriska Fernandes