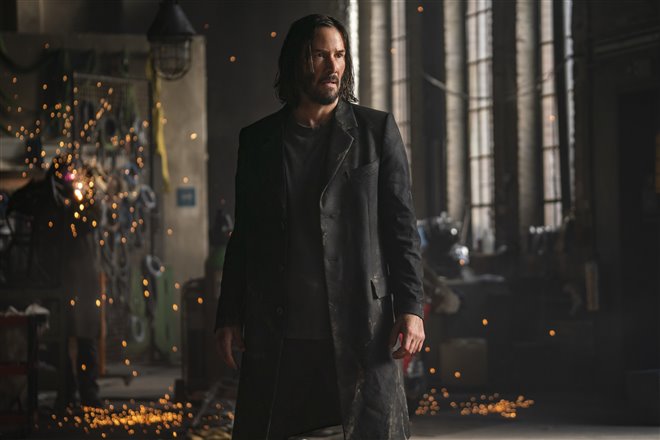 As the end of another calendar year approaches, a wide range of new releases are hitting movie theaters. There are movies of all types, including action/adventure, drama, sci-fi, and even an animated musical for the whole family. The decades-long wait for the return of The Matrix is officially over with the arrival of The Matrix Resurrections. If you haven't seen the first three films, don't worry; you can still enjoy this one. ~Manal Amir
The Matrix Resurrections - Thomas Anderson (Keanu Reeves), also known as Neo, has been having dreams in which he sees flashbacks to the past. When he meets Trinity (Carrie-Anne Moss) at a coffee shop, he has the impression that they are old friends. The meeting sets off a chain reaction in Neo, and after taking a blue pill, he meets a mysterious man (Yahya Abdul-Mateen II) who has all the answers he seeks. Neo and Trinity have returned to the Matrix after appearing to have died during the conflict with the robots, and now they must now figure out how -- and why. Click here for showtimes.
Sing 2 - When greedy business wolf Jimmy Crystal (Bobby Cannavale) pushes the red button, eliminating their shot at success, a playful troupe of animal musicians get set to audition for a talent show. When Jimmy says he is looking for a big concept, Gunter (Nick Kroll) proposes Clay Calloway (Bono), a washed-up but infamous artist. With the producer's approval, the crew sets out to find Calloway in the hopes of assisting him in rediscovering his voice after 15 years of silence. Click here for showtimes.
The King's Man - As history's darkest tyrants and criminal masterminds gather to plan a war that would wipe out millions, one must race against the clock to stop them. Discover the beginnings of Kingsman, the world's first independent spy agency. Click here for showtimes.
American Underdog - Kurt Warner (Zachary Levi) has defined himself through sports his entire life, but despite always giving it his all, he came up short. After being let go by the Green Bay Packers, Kurt finds a job stocking shelves in a grocery store, where he comes to the realization that he may not have been ready to take his game to the next level back then, but he is now. Defying all odds, Kurt is now given the opportunity to prove himself on the biggest stage possible with the St. Louis Rams. Opens Christmas Day; click here for showtimes.
A Journal for Jordan - Knowing the hazards of military service, First Sergeant Charles Monroe King (Michael B. Jordan) keeps a journal for his little son Jordan while serving on duty in Baghdad. Following his death in combat, his wife Dana (Chanté Adams) receives the journal. His words to his son are intended to teach him how to live a decent life despite growing up without a father. Click here for showtimes.
Licorice Pizza - Aspiring actor Gary Valentine (Cooper Hoffman) meets Alana Kane (Alana Haim) in the San Fernando Valley in 1973, and anticipates marrying her one day. Gary begins to garner popularity and the attention of other high-profile Hollywood individuals after meeting film producer Jon Peters (Bradley Cooper). Click here for showtimes.
The Tragedy of Macbeth - Power-hungry Macbeth (Denzel Washington) sets his sights on the Scottish throne after receiving a prophecy from three witches. Frances McDormand stars as Lady Macbeth. Opens in Toronto and Vancouver on Christmas Day. Click here for showtimes.